Our bedroom serves as a sanctuary of sort - it's the place where we rest and relax after a long day, and escape from our daily problems. Therefore it's only natural that the décor of this room helps create a sense of calmness and peace. So here are some great ideas for you to pick and choose from to help you transform your bedroom into a sanctuary!

.
Add Some Artwork
Paintings and artwork aren't just reserved for living rooms and hallways. Gather a selection of your favourite photographs, prints and paintings and create a gallery wall somewhere around the room.
Some top ideas that could help lull you to sleep include black and white photos of your children, images of world destinations or perhaps some interesting geometrical forms.
.
Opt for a Neutral Colour Scheme 
When colour schemes are in question, we suggest you give soft, neutral palette a go. You don't have to make everything in the room beige or cream, but simply choose to combine colours that are soothing and inconspicuous. For example, a pastel colour such as a powder blue could be chosen.
.
Brighten up the Bedroom
Lastly, what sets the mood better than proper illumination? Since bedroom is not a high-traffic space, you can introduce a gorgeous chandelier to create a perfect ambience for resting. You can opt for a more intricate model with crystals and give your bedroom a touch of luxury.
If a full chandelier isn't quite your style this simple yet classy chandelier pendant light might be more your style...
.
Upgrade Your Bed  
Your bedroom is your kingdom, so why not go for a quality makeover worthy of royalty. There are many ways to accomplish this but nothing says supreme comfort like a spacious king single mattress and a luscious canopy. This will make you feel sheltered and cozy, and give you and extra layer of privacy in the bedroom.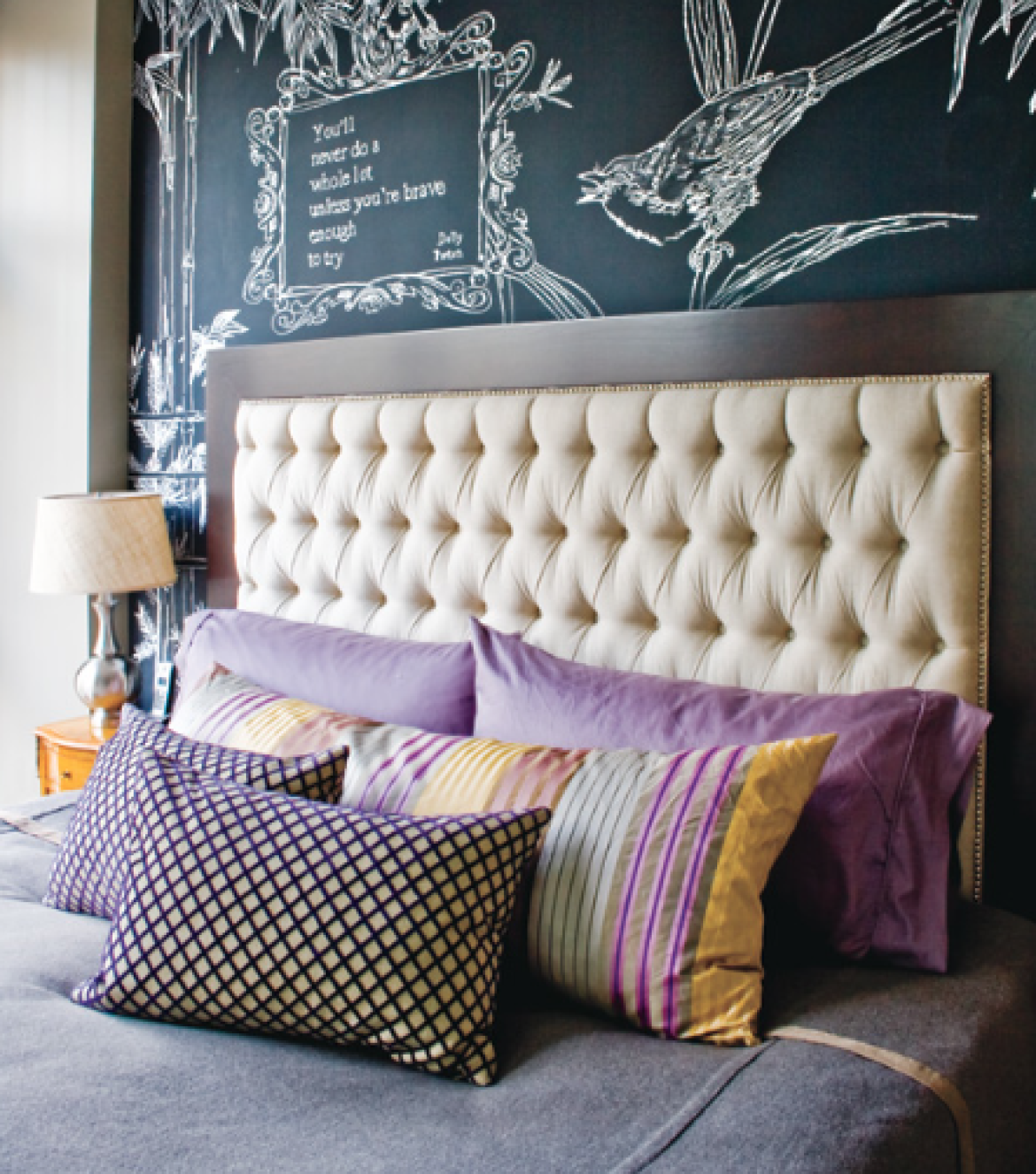 Investing in a new headboard is a relatively inexpensive method of making your bedroom feel homely and snug. There are numerous styles to choose between ranging from traditional to modern variants. An oversized, frame-like piece in a pale-gold shade is a great way to make your room unique, yet still maintain its sophistication.
Finally, consider swapping your current bedding and linens for an entirely new set. If you've got a tight budget this could completely change the face of your room with very little cost.
.
Add a Sitting Area 
Introducing a sitting area in your bedroom is a splendid way to utilise free space and create a cosy reading nook. This idea is especially great for people with large families as it provides a place for solitude which we all need from time to time.
If you can't fit a full set of seating furniture in your bedroom a simple bench might also be quite handy. Not only can it be used as a reading and resting spot, it could also be used for storage. Overall a sitting area can be a simply charming addition to your bedroom.
.
Make Use of a Mirror 
In order to create a sense of peace I would recommend you select a statement type mirror rather than one that hangs on the back of your door. This is because it can create an illusion of spaciousness - which is an essential element to any sanctuary.
.
Choose a Classy Armoire
Finally, most of us have warm and fuzzy memories related to our grandparents' house, and antique furniture is something that can replicate that vibe in our own bedrooms. Trade your dresser in for a classy armoire in which you can store both your TV and clothes.
.
The bedroom is often called the room where the "magic happens", but above all its a place for rest, rejuvenation and relaxation. So take our advice and redo some of the bedroom elements.